April Updates
Shmoking that bacon. Ingenious methods of home smoking that we've been exploring. Word on the street seems to be not to bother forking out money for an expensive kit but build your own out of old chimney pots/bits of wood/an old fridge - anything you can get your mitts on that might work. Cannot wait to be at this stage - but need to be patient and enjoy the first part of the journey too...just waiting on these piglets to arrive with us and it's getting frustrating! How do you smoke things? We want to see everyone's home smokers!
Wild flower picking 🌸 I trampled so many of these before seeing them and then decided they'd look nicer on the kitchen table than squashed under my wellies.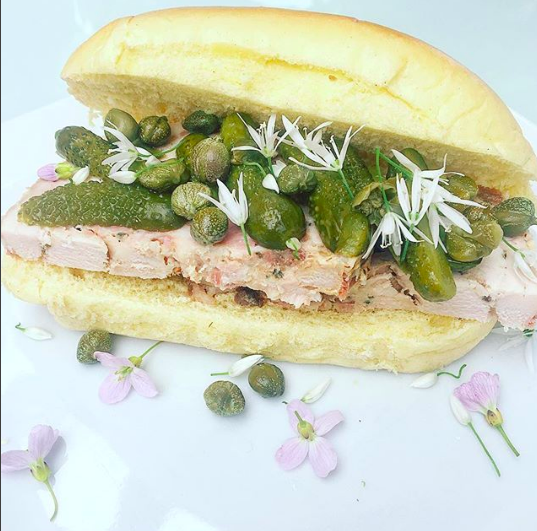 This is what we're talking about. Homemade pork terrine in a brioche bun, loaded with cornichons and capers and scattered with wild garlic and lady's pocket flowers. Perfect lunch to chomp on whilst cooking ready for the rest of the Easter Weekend!
These guys are not impressed by the commotion in the orchard. They've all come over to see what's going on over the other side of the hedge. We are still going with the fencing job, bit by bit, and the piggies are due to arrive in about 2-3 weeks now!
This is Gino Rocchi from Matraia in Tuscany, Italy. Gino has a degree in economics but found working in a bank to be completely intolerable. So he returned to join his father and uncle in making delicious salumi. If you want to see serious speed when it comes to hand tying sausages, these guys have got it nailed down to a fine art. It was mesmerising - just like the sheer joy and passion on Gino's face when he talked about his work and his product. If you need a reason to smile just look at his cheeky face - one of the most content people I've ever had the privilege of meeting. Happiness just shone out of him by the bucketload. Their Lucchesi salumi is pretty fucking great too. Be happy like Gino this Friday!
I've been umming and ahhing and sitting on the fence over whether to post this one. I was in a friends restaurant recently and they had crispy pigs head croquettes on the menu. Although I was using the heads in Italy to make soppressata, I was pretty much just lifting them by the ear and throwing them into a huge pot of water on the stove. I wanted to pick up this head, look at it, touch it and try to feel normal about it. It's quite hard not to feel squeamish or experience a level of sympathy when the face is right there looking at you. It's not just a detached bit of meat that we can blindly cook and eat. But it's not really any different from eating any other part of the animal, it just confronts us with something that we are quite happy to not see.