Spring Green Terrine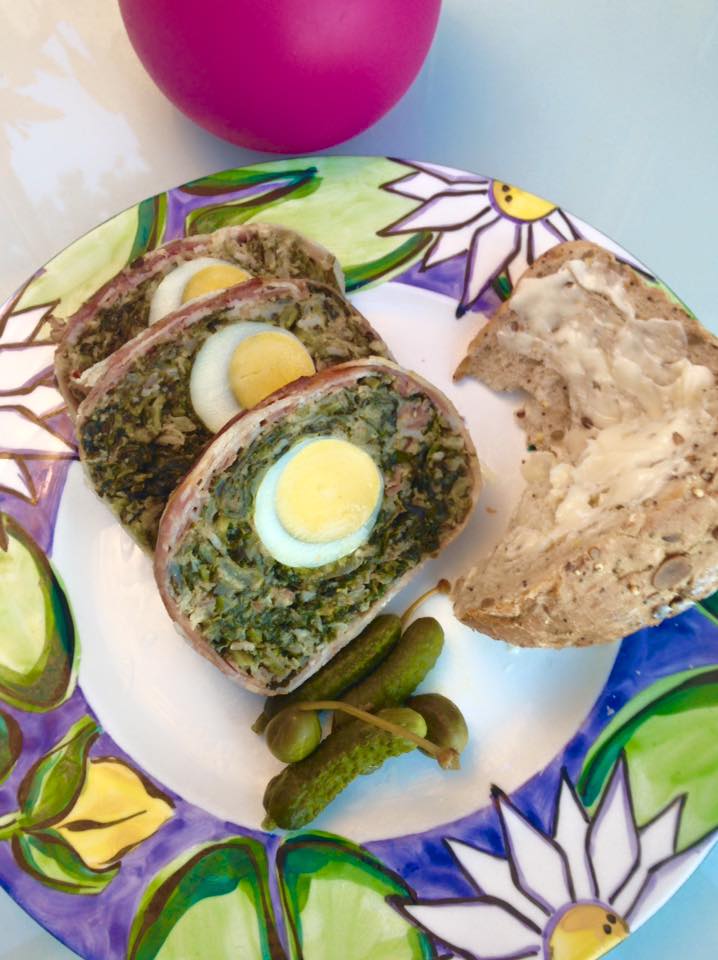 way of getting your vegetable fix with seasonal spring greens.
400g smoked streaky bacon
2 onions finely diced
3 large cloves garlic minced
500g Spring greens finely shredded
6 large organic eggs
50g home made breadcrumbs
8 tablespoons olive oil
Salt and black pepper

You will need a 1 litre loaf tin lined with tin foil with plenty of extra hanging over the edge of the tin so you can wrap up the terrine.
 
Preheat the oven to 180C
 
Line the tin with tin foil and then use approx 250g - 300g of the streaky bacon to line the base and sides of the tin.
 
Chop up the remaining bacon into small pieces and gently sauté in the olive oil with the finely chopped onion. Do not allow to colour. After about 10 minutes add the shredded spring greens and the minced garlic and continue to sauté stirring from time to time until everything has wilted down. Season with a little salt ( not too much as the bacon provides most of the saltiness) and plenty of freshly ground pepper.
 
Set to one side to cool. Meanwhile boil 4 eggs for 5 minutes. Plunge into cold water and peel. In order that every serving gets a nice slice of yolk, trim the ends of the eggs to remove excess white.
 
Now that the mixture is cooler, beat the remains 2 eggs together and add to the mix. Stir in the breadcrumbs and make sure that everything is combined thoroughly.
 
Fill the loaf tin with half the mixture and then line the eggs up down the middle making sure they are well nestled in. Finish off with the remaining mixture and press down well to ensure there are no gaps. Fold the bacon over so that everything is wrapped up and then use the excess foil to seal the terrine.
 
Set the loaf tin in a roasting tray and fill with boiling water until the level reaches two thirds up the loaf tin. Place in the oven for an hour. Check the level of the water after 40 mins as it may need topping up.
 
Remove from the oven and gently lift out the foil package. Allow to cool completely before unwrapping the terrine.
 
Slice in reasonably thick pieces and serve with cornichons and crusty brown bread.

For a meatier terrine have a look at the English Breakfast Terrine recipe.